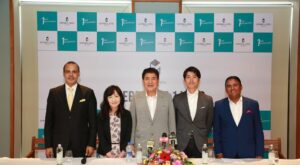 Granbell Hotel Colombo, a Japanese-owned hotel in the heart of Sri Lanka's bustling capital city, recently celebrated its first anniversary in style. The hotel commemorated this milestone with a grand press conference, captivating the attention of media personnel and esteemed guests from across the industry. The hotel's management shared insights into their successful journey, highlighting the dedication of their exceptional team and the hotel's commitment to providing unforgettable experiences to every guest. The hotel also announced an exciting social media giveaway to their loyal patrons of an exclusive overnight stay, a themed dinner week at The All Day Dining Restaurant, and special entertainment at The Bar On the Top.
Esteemed guests and dignitaries, including the President of Belluna Co. Ltd, Mr. Kiyoshi Yasuno, and Director, Mr. Hiroshi Yasuno, attended Granbell Hotel Colombo's anniversary celebration, along with Ms. Junko Kato, Director of Belluna Japan, Mr. Nishantha Perera, Partner Belluna Lanka and Mr. Shirantha Pieris, Chairman – SLITHM.
Despite various challenges, Granbell Hotel Colombo defied the odds and opened its doors in April 2022. The hotel maintained a strong occupancy rate of over 40% from November onwards, thanks to the unwavering support of the government, Sri Lanka Tourism, travel agents, corporate partners, and overseas tour operators. Granbell Hotel Colombo also participated in the prestigious SATTE 2023 travel fair in Delhi and the Arab Travel Mart in Dubai, where it showcased its world-class facilities and exceptional service. The hotel is looking forward to attending the World Travel Mart and more travel fairs in the coming year to further promote Sri Lanka's tourism industry.
With 292 rooms across four categories, half of which offer breathtaking ocean views, Granbell Hotel Colombo is the perfect seaside retreat for a quick getaway. Guests can indulge in sea-view terraces overlooking the Indian Ocean to a bathtub with unbeatable ocean views in the highest-category room. The iconic rooftop infinity pool and bar offer stunning panoramic views of the city and sea, while the Japanese restaurant tantalizes your taste buds with tempura and teppanyaki delicacies.
In addition to luxurious accommodations and world-class dining options, Granbell Hotel Colombo offers corporate and business facilities, including a banquet hall, board room, and conference room. The hotel's central location provides easy access to Colombo's business, entertainment, and shopping districts, making it an ideal destination for business and leisure travelers alike.
Granbell Hotel Colombo's establishment has a special significance as Japan and Sri Lanka have bilateral ties of over 70 years. The hotel is focused on strengthening these ties and enhancing cultural exchange. Book your stay at https://granbellhotel.lk/ or contact 11 2 397 397 and experience the luxury and hospitality that have made Granbell Hotel Colombo a top destination for travelers from around the world.
Belluna, also the owner of Le Grand Galle, eagerly awaits the property's fifth-anniversary celebration this August. Perched gracefully just five minutes away from the historic Galle Fort and the mesmerizing sea, Le Grand offers spacious rooms starting from generous square meters. Within its 57 exquisite rooms lie hidden treasures, including the coveted jacuzzi and plunge pool suites. Its unrivaled location makes it the perfect haven for both families seeking blissful getaways and travelers yearning to be a mere stone's throw away from a UNESCO Heritage Site. Delight awaits at the property's seafood restaurant, where tantalizing flavors dance on the palate, while the pool bar invites guests to savor refreshing libations amidst the serene backdrop. Unwind and rejuvenate at the blissful Balinese spa, a sanctuary of tranquility. Le Grand Galle has been a cherished venue for enchanting destination weddings and an ideal destination for romantic honeymoons. Book your stay https://www.legrandgalle.lk/ or contact 91 2 228 555
Photo caption:
From Left to Right – Mr. Shirantha Peiris, Chairman, SLITHM, Ms. Junko Kato, Director, Belluna Co. Ltd, Mr. Kiyoshi Yasuno, President, Belluna Co. Ltd, Mr. Hiroshi Yasuno, Director, Belluna Co. Ltd and Mr. Nishantha Perera, Partner, Belluna Lanka