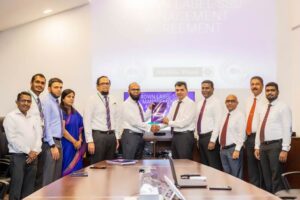 The AB Cash Management services entity which is under AB Securitas (Pvt), the leader in Total Loss Prevention Solutions Provider in the country, recently introduced Total SSD Management in Sri Lanka. This newest add-on to the products and services is the novelty concept of "Brown Label SSD. The project is operated under AB Cash Management to cater to multiple aspects and demands in Commercial and Industrial Security in Sri Lanka. The signing of the agreement for this new venture took place at Amana Bank with the participation of the Managing Directors of both organizations.
As a continuous service development, AB Securitas launched this new service together with the total solution where they look into the hardware management and service, electronic security, AC facility, and Security Guard Services. This new system at the banks includes having one single point of contact, lack of capital expenditure (CAPEX) for banks as they charge a monthly service charge, no maintenance or staff cost, it's hassle-free, and with this, banks can focus on giving their full attention to the core business as AB Securitas takes care of the non-core activities. The first system was launched with Amana Bank in Thoppur, Trincomalee.
Amana Bank is the first and only licensed commercial bank in Sri Lanka to conduct all its operations under the principles of the non-interest Islamic banking model. It offers the full spectrum of retail banking, SME banking, corporate banking, treasury, – and trade finance services.
Commenting on the partnership, Amana Bank's Managing Director/CEO Mohamed Azmeer said, "Amana Bank is honored to collaborate with AB Cash Management Services and AB Securitas to operate our Self Banking Centers and remote ATM sites under the Brown Label Self Services Devices concept, which will ensure our customer's an efficient service in these locations. This partnership will also enable us to accelerate the expansion of our Self Banking Centre network to remote locations in the country, thereby taking our unique people-friendly banking concept to the masses."
Also sharing his views Amana Bank's Chief Operating Officer Imtiaz Iqbal said, "This partnership with AB Cash Management Services and AB Securitas will facilitate us to be more agile in providing our customers repetitive service while also leveraging on the strength and process efficiency of our collaborating partners."
The Senior Manager of ATM Management Services of AB Securitas, Mr. Sanjaya Fernando, also commented. "We have been providing a service for 11 years and serving 10 banks. Under this new concept, we hope to help develop the access required for customers around the island. We also look forward to offering this solution to all banks to revolutionize the ATM Management industry so our users can have a better service experience."
During the signing ceremony, – the Director/CEO of AB Securitas, Ret. Wing Commander D Pradeep S Kannangara stated. "We are delighted and honored to inaugurate this monumental project with Amana Bank. AB Securitas has thrived in the industry as the total loss prevention solution service provider, being active throughout the pandemic as well. We look forward to continuously developing this concept and hope to take it to several more banks around Sri Lanka."
ATM Management Service has covered all ATM-related services including replenishments, calls out, and first-line maintenance. The Replenishment Services include cash replenishments, clear cards, clear cash, clear deposits, journal roll replacement, ribbon replacement, cash reconciliation, maintaining consumables of ATM/CDM, and closing and re-activating ATMs. Brown Label ATMs are those Automated Teller Machines where hardware and lease of the ATM machine are owned by AB Securitas, but the cash management and the connectivity to banking networks are provided by a sponsor bank whose brand is used on the ATM.
Under this new concept, AB Securitas provides the total end-to-end solution from the ATM and CDM machines to Cash Collections (CIT), Replenishments and Reconciliation, Real-Time Monitoring of Machine Behavior and Forecasting, Currency Processing and Storage, RTGS, Central Bank Deposits/Withdrawals, Static Security and Cleaning, CCTV Systems, Middleware, and Quick Response (QRT). On the OpEx module, from the customer's point of view, they can reduce the cost significantly while experiencing a hassle-free One-Stop Service Delivery.
AB Securitas provides its cash transport and ATM management services to all premier banks in Sri Lanka for over a decade. As a member of international professional organizations like ATMIA (ATM Industry Association) and CR ( Currency Research ) – ICCOS, AB Securitas participates in several trade seminars annually. AB Securitas organize and fully sponsor the only local "cash seminar "to share the modern security methodology and devices used by the world's leading cash and ATM management companies with its clientele consisting of all banks, financial institutions, etc.
Photo captions