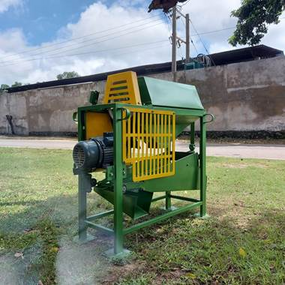 Hayleys Agriculture Holdings Ltd., the country's leading Agricultural machinery and equipment supplier, has been in the forefront of introducing modern agri solutions to facilitate local farmers and enhance productivity. Hayleys Agriculture recently launched the Agrotech groundnut thresher that utilizes innovative technology to remove groundnut pods. The product is manufactured in Sri Lanka by Agro Technica Ltd, a subsidiary company of Hayleys Agriculture Holdings Ltd., to suit local farming conditions, while assisting farmers to scale up production.
Powered by electricity, Agrotech groundnut thresher has an output of 50kg – 60kg per hour compared to the 30kg per day output from manual threshing. Most importantly, this machine causes minimum or no damage to groundnut pods, making it one of the best investments for a farmer.
Commenting on the new Agrotech groundnut thresher, Sumith Herath-General Manager, Agri Equipment Division-Hayleys Agriculture Holdings Ltd said, "Hayleys Agriculture has been a trustworthy brand name in Sri Lanka over the past few decades. Our focus is to provide the latest technology powered agri mechanization solutions to local farmers, while increasing their profits. The new groundnut thresher is yet another remarkable product that addresses the current needs in the local agriculture space."
The most compelling features of the Agrotech groundnut thresher are that it is portable and easy to operate. The manual threshing process is time-consuming, leads to a high cost of production and labour. By using the thresher, the farmer can get the same job done quickly and easily. It becomes the perfect solution for the labour shortages and it can be operated by the farmer himself. With all the benefits the Agrotech groundnut thresher has to offer, the good news for the farmers is that it helps to scale up cultivation from small to large and seamlessly fulfill the local groundnut demand.
The worldwide farming continues to embrace high-tech powered agri machinery to facilitate the process of cultivation. Hayleys Agriculture is geared to provide Sri Lankan farming community with the best agri solutions and help uplift the local agriculture sector.
Photo Cation
The Agrotech Groundnut Thresher from Hayleys Agriculture Holdings Limited, an innovative solution to remove groundnut pods.