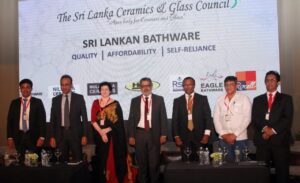 The Sri Lanka Ceramic & Glass Council (SLCGC), the apex body for consensus building among all parties in the ceramic industry, hosted a panel discussion on the quality, affordability, and self-reliance of the Sri Lankan Bath ware industry. The event was held at the Colombo Hilton on the 19th of October 2022 and was attended by officials representing various Government & Private Organisations, bath ware manufacturers and a distinguished discussion panel.
The illustrious panel included Chief Guest Hon. Dr. Ramesh Pathirana, Minister of Industries, Mrs. J. M. Thilaka Jayasundara, Secretary, Ministry of Industries, Mr. Rohana Wijesekera, Assistant Governor, Central Bank of Sri Lanka, Dr. Saranga Alhapperuma, Chairman, Industrial Development Board, Mr. Manawachandra Bopitiya, Managing Director, Lanka Minerals & Chemicals (Pvt) Ltd., Mr. Aravinda Perera, Managing Director, Royal Ceramics Lanka PLC, Dr. Nishantha Nanayakkara and Chairman, RSL Group of Companies.
During the discussion, the SLCGC addressed a major misconception about the local bath ware industry, which is the fact that many Sri Lankans still believe that there are only 1 or 2 manufactures in the country. However, today, there more than 8 small, medium, and large-scale producers in the industry, who are capable of supplying to multiple price points and varying levels of quality.
The manufacturers include, Royal Ceramics Lanka PLC, RSL Ceramics (Pvt) Ltd., Mulatiayana Ceramics (Pvt) Ltd., Nilwala Ceramics Village (Pvt) Ltd., Otto Bath ware, Hega Tile (Pvt) Ltd., Embilipitya Ceramics (Pvt) Ltd., Novel Ceramics (Pvt) Ltd., and Dilax Chemical (Pvt) Ltd. The event also showcased a live display of products of varying qualities and price ranges, manufactured by some of the aforementioned manufacturers.
The panel also discussed the effects of the COVID-19 pandemic and the economic crisis on the local bath ware industry. In early 2020, Sri Lanka did not have the capacity to fulfil the demand of bath ware in the country. The import restrictions also had a great impact on the industry as well.
However, due to government requests to increase manufacturer capacities, an influx of factories and investments of over Rs.1 billion, was able expand and rejuvenate the industry. A plethora of new factories and significantly increased capacities helped the industry reach its desired target within a span of 2 years. The SLCGC also established the fact that 80% of the raw materials needed for the industry is locally sourced and an extremely high value addition is applied to these local raw materials.
ENDS
Photo Caption
Members of the distinguished panel at the SLCGC discussion on the quality, affordability and self-reliance of the bath ware industry