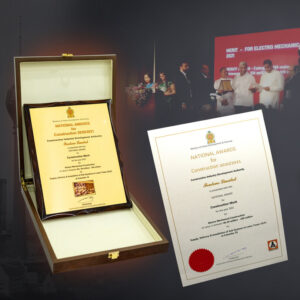 Award in recognition of ground-breaking Electro-Mechanical systems construction
Hayleys Fentons, the No. 1 Security and Surveillance, Solar EPC and MEP contractor was honoured with the prestigious Merit Award in the Construction Category at the National Awards for Construction 20/21. Organised by the Construction Industry Development Authority (CIDA) under the Ministry of Urban Development and Housing, these awards are highly respected and serve as a platform to showcase excellence in construction management.
Spanning over a decade of engineering services in Sri Lanka, Fentons was recognised for its exceptional work in the field of Security and Surveillance, particularly for its role in supplying, delivering, and installing subsystems for the Colombo Lotus Tower located in Colombo 10. The Lotus Tower, South Asia's tallest self-supported structure, achieved a significant milestone in June 2023, welcoming its 15,000th foreign visitor and boasting a total visitor count of 861,894 to date.
This award serves as a testament to Fentons' commitment to delivering projects of the highest quality and consistently exceeding customer expectations. Some of their recent projects include the installation of a Conference System for the Central Bank of Sri Lanka, enabling better information exchange. Additionally, Fentons successfully executed a groundbreaking network transformation project for People's Bank, involving a zero-touch, zero-downtime multi-hub enterprise deployment across 375 branches across the entire island in just 70 days. Fentons also completed a pioneering solar installation project on over 1000 communication towers across the island, setting a remarkable precedent.
"We are immensely proud to receive this prestigious award at the National Awards for Construction 20/21," said Mr Hasith Prematillake, Managing Director of Hayleys Fentons. "We would like to express our gratitude to the Construction Industry Development Authority for this honour, which recognises the efforts of the team in ensuring seamless operational, safety, and security capabilities."
The General Manager of the Security and Surveillance Division at Hayleys Fentons, Mr. Jayendra Fonseka said, "This project was truly exceptional due to its high level of systems integration and attention to safety at all times. Our team successfully integrated Honeywell CCTV, DACS, Notifier fire detection system, Wharton clock system, and other essential components with the Honeywell BMS system."
"Despite the inherent risks involved in constructing such a tall structure, we managed to complete the project with zero accidents. The safety of our workers and all involved was a top priority, and we took extensive measures to ensure a safe working environment throughout the project duration."
Founded in 1919, Fentons is one of the first engineering companies to be established in Sri Lanka. With over a hundred-year legacy in Security, ICT, Solar & Battery Backup Systems, Electrical, Fire, A/C, UPS, Facility Management, and several other areas of engineering, Hayleys Fentons has grown to become a trusted pioneer in the industry that has made its mark and established an undisputed reputation across various other sectors.
(ENDS)