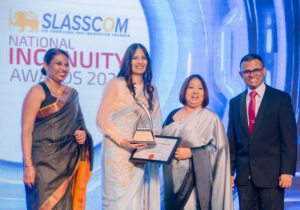 Co-founder and CEO of Inqbaytor, the trailblazing travel technology company, Dr. Harshani Perera, has been honoured with two extraordinary awards, acknowledging her exceptional contributions and leadership in the fields of Information Technology and the travel industry. Dr. Perera received the prestigious 'Woman Technopreneur of the Year 2023' at the SLASSCOM National Ingenuity Awards 2023, and the 'Leadership in Information Technology Award 2023' at the Top50 Professional and Career Women Global Awards 2023.
These awards celebrate Dr. Perera's remarkable journey as a woman in the male-dominated fields of IT and travel, exemplifying her dedication and passion for making a significant impact through technology-driven innovation. Dr. Perera's achievements stand as a testament to her unwavering commitment to empower women in technology. Starting her illustrious career as a Software Engineer at Virtusa and Zaizi, she demonstrated remarkable expertise and determination. Her entrepreneurial journey commenced while pursuing her PhD in Information Technology at Murdoch University.
Dr. Perera led the ground-breaking development of the 'Ticket Gadget' App during the lockdown period brought about by the COVID-19 pandemic. 'Ticket Gadget' swiftly grew to become the largest online travel consolidator in the country, offering unparalleled travel services to both travel companies and corporates. The success of Inqbaytor and its flagship product, 'Ticket Gadget', has been a result of Dr. Perera's exceptional leadership, relentless drive, and innovative thinking. Her ability to steer the company's trajectory during turbulent times demonstrates her acumen as a technopreneur.
As a woman in IT and travel, Dr. Perera has both shattered stereotypes and broken barriers. Her remarkable journey is an inspiration to aspiring women technopreneurs around the world. Beyond her role at Inqbaytor, she also serves as a Director at SLASSCOM, the national chamber for the IT/BPM industry in Sri Lanka. In this capacity, she has been actively involved in spearheading the pioneering work of the Women Technopreneurs Forum. This initiative is dedicated to supporting female technopreneurs, empowering them with resources, guidance, and mentorship to thrive in the technology landscape.
Dr. Perera's contributions go beyond the boardroom; she has been a driving force in fostering an inclusive and diverse environment in the tech and travel sectors. Her dedication to promoting women's participation and leadership in these industries has been recognized globally. The accolades bestowed upon Dr. Perera, including the 'Woman Technopreneur of the Year 2023' and the 'Leadership in Information Technology Award 2023,' celebrate excellence, innovation, and determination. They underscore her exceptional achievements and the positive impact she has made within the IT and travel sectors.