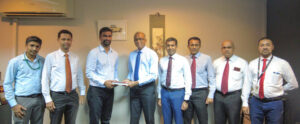 Hayleys Solar, the renewable energy arm of Hayleys Fentons, as the number 1 solar provider in Sri Lanka, has enabled Stafford Motors, one of the largest automotive dealers in the country to achieve complete energy independence through a 1,184 MWh annual capacity solar installation.
This grid-connected rooftop solar installation, spans across six of their corporate offices located in Ja-Ela, Colombo, and Rattanapitiya, with a total of 2,524 solar panels. By utilizing the latest panel technology, the installation optimizes energy production throughout the day, ensuring maximum efficiency and cost reduction.
"This solar installation marks a significant milestone for Stafford Motors, signifying a major step towards reducing our carbon footprint. We are proud to collaborate with Hayleys Solar on this transformative initiative, which propels us closer to our primary environmental goal: diminishing reliance on the grid and striving for complete energy independence," stated Dr. Kalinga Kaluperuma, Managing Director / CEO of Stafford Motor Co. (Pvt) Ltd.
Reflecting on the successful completion of the installation, Hasith Prematillake, Managing Director of Hayleys Fentons said, "We would like to extend our gratitude to Stafford Motors for placing their trust in us across their manufacturing footprint. So far, Hayleys Solar has completed over 140 Megawatts of Solar Power Systems all across the island, and we continue to support industries to transition to renewable energy."
Roshane Perera, Director/CEO of Hayleys Solar, highlighted the significance of the solar installation, stating "Hayleys Solar has brought in the latest technology to effectively utilize solar power and minimize fuel costs during power outages for Stafford Motors. We are committed to working with our clients to deliver innovative and cost-effective solutions that make the switch to solar power a reality for businesses of all sizes."
Dedicated to driving energy independence in Sri Lanka, Hayleys Solar is proud to be at the forefront of this important effort. The company's expertise in solar technology and commitment to innovation and sustainability make it the ideal partner for businesses looking to strive for energy independence.
END
Image Caption- Hayleys Solar and Stafford Motors celebrate the completion of a remarkable 1,184 MWh annual capacity solar installation bringing energy independence to the company