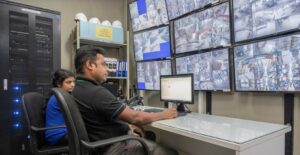 Hayleys Fentons fortifies Sri Lanka's largest warehouse under one roof
Over 200 High-Definition Cameras Secure 455,000 Sq Ft Warehousing Space in Just 2 Weeks
Hayleys Fentons Security and Surveillance Division, a leading provider of cutting-edge security solutions, partnered with Advantis 3PL, the market leader in Third Party Logistics (3PL) solutions, to fortify the security measures of their landmark expansion project – Phase II of Advantis Logistics City, which stands as the largest warehouse under one roof in Sri Lanka.
Within an impressive time frame of less than two weeks, 217 high-definition cameras were added, bringing the total to 689, strategically positioned to enhance security and surveillance across 455,000 square feet of total warehousing space. The collaboration aims to bolster the comprehensive logistics offerings of Advantis 3PL while ensuring the safety and protection of their extensive warehousing facility.
In recognition of the vulnerability of storage and warehouse facilities to security incidents, the implementation of advanced surveillance cameras has become imperative. By strategically positioning these cutting-edge security cameras, Advantis 3PL gains unparalleled control over potential areas of concern, resulting in a significant reduction in the risk of unauthorized activities.
Speaking on the project, Hasith Prematillake, Managing Director of Hayleys Fentons, said "The integration of state-of-the-art security cameras as visible surveillance serves as a powerful deterrent, further strengthening the security of our facilities. Moreover, the installation of these high-definition cameras enables the security personnel to conduct more effective patrols, ensuring the direct safeguarding of the building rather than relying solely on monitored observations."
Commenting on this collaboration, Sheran Abeysundere, Group Management Committee member of Advantis stated, "Securing manufacturing and distribution facilities can present a formidable challenge due to a potentially expansive physical footprint and the continuous flow of vehicles and personnel. Our collaboration with Hayleys Fentons underscores our unwavering commitment to ensuring optimal security and delivering exceptional services to our valued clients."
Mr. Jayendra Fonseka, General Manager of Hayleys Fentons Security and Surveillance division highlighted the significance of the security enhancement. "The installation of our comprehensive CCTV system complete with control room video wall monitoring facilities serves as a powerful management tool to monitor every step of the operation. Our goal is to leverage technology and automation such as AI and Facial recognition and provide state-of-the-art, customised security systems. This collaboration with Advantis 3PL exemplifies our commitment in delivering comprehensive, privacy-conscious solutions," stated Mr. Fonseka.
Over the last 30 years, Hayleys Fentons Security and Surveillance Division have provided state-of-the-art security solutions to commercial and industrial premises. Their services include CCTV, Intruder Alarm systems, Audio Video Conference Systems, PA, and Voice Alarm Systems. Additionally, the division also provides visitor management, car parking solutions, and hostile vehicle mitigation. Their security and surveillance systems are designed to suit the requirements of each residence or building and the client's budget.
ENDS