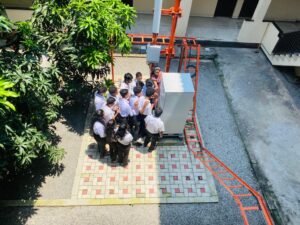 NAITA-HUAWEI ICT Academy for Vocational Training successfully trained over 260 individuals in nine sessions by April 2023.
This is the number of training youths from August 2021 to April 2023. The active sessions continued throughout the Covid-19 pandemic and the economic downturn.
On April 16, 2021, Huawei began collaborating with the National Apprentice and Industrial Training Authority (NAITA) to establish the ICT Training Academy, with the goal of annually upskilling over 300 passionate young people with knowledge and practice of principles as on-site telecommunication engineers, such as wireless and datacom hardware installation, environment health and safety (EHS), and quality improvement.
Officer in Charge of Industry Collaborative Apprenticeship Training Centre Chathuranga Iroshan said that 95 youths were trained in four batches by the Telecommunication Technician NVQ04, while 175 youths were trained by ten Telecommunication Advance Training Module 5G Short Courses.
Director Training at NAITA Nilantha De Silva said that students from across the country are eagerly participating in the program and gaining the most from the academy.
Meanwhile, Director of the Human Resources Department for Huawei Sri Lanka Chen Mengyuan expressed her delight at learning that the joint effort of Huawei and NAITA in Sri Lanka resulted in the training and employment of over 260 bright telecommunication engineers.
She claimed that this success demonstrates the value of teamwork, encourages dedication, and promotes youth growth.
"I am also really pleased with the work that the NAITA team and the telecommunication engineers themselves have accomplished. This accomplishment marks the conclusion of several months of arduous effort, perseverance, and growth through reflection as Huawei's core values. Congratulations to the telecommunication engineers who completed their training successfully. You have shown outstanding resilience, determination, and passion during your educational journey. This achievement motivates us to keep up our dedication to assisting youth development and investing in their potential," she noted.
Given Huawei Sri Lanka's priority and one of its main goals in sowing seeds for the future, a Memorandum of Understanding (MoU) was signed between Huawei Sri Lanka and NAITA with the intention of creating young telecommunication engineers who are more likely to embrace new technologies and whose creativity and enthusiasm can drive innovation and help not only Sri Lanka but other countries to stay competitive in a rapidly evolving technological landscape.