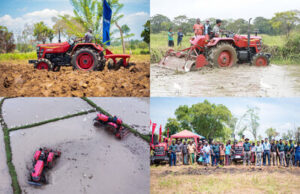 DIMO, a leading diversified conglomerate in Sri Lanka, together with its long-standing partner Mahindra Tractors recently completed a project executed for the betterment of the local farmer community (ගොවිදන දිවි සුව පිණිස) with the objective of assisting them in land preparation during this difficult time, while also boosting the Maha season activities.
Through this 3-month project, 250 acres of land have been prepared, benefiting over 165 selected farmers in the nation, who were in dire need of land preparation and lacked financial access to machinery. It is indeed encouraging to note that this project has successfully attained greater financial savings for the farming community.
In collaboration with the Department of Agriculture, DIMO successfully approached the farming communities in Monaragala, Kilinochchi, Dambulla and Anuradhapura for this project. DIMO identified a pressing concern faced by the farmers due to high land preparation costs which have been increased three-fold in the recent past, and further burdened by the increased fuel prices. Farmers were faced with many challenges when cultivating during the Maha Season and this initiative provided all the machinery needed for land preparation free of charge, for farmers in selected areas, easing their burden.
DIMO and Mahindra Tractors provided farmers with the necessary Mahindra Tractors, implants such as Rotovators, Disc Ploughs, Tine Tillers, and fuel required for land preparation. While the Paddy farmers in Dambulla, Anuradhapura and Kilinochchi were assisted via this project, the maize farmers in Monaragala were also assisted with land preparation for the Maha Season.
Sharing his thoughts on this timely project, Chairman & Managing Director of DIMO, Ranjith Pandithage stated, "As the perfect Growth Partner, DIMO always stands for fuelling the dreams and aspirations of the local farming community, assisting them through R&D, agriculture inputs, farming, processing / manufacturing, retail, and export in the agriculture value chain. We are honoured to be one of the very few companies in Sri Lanka which focuses on all aspects of the agriculture value chain while taking the initiative to enhance the next generation agriculture in the nation. Having understood the integral role played by the farmers on any country's economy, especially during challenging time periods, DIMO together with Mahindra Tractors, executed this initiative as part of its sustainability agenda to develop resilient communities through creating partnerships and opportunities for them to thrive."
Serasinghe Bandara, President of the Bellanneoya Farmer Society in Dambulla, also shared his thoughts. "Today, the farming community faces many difficulties due to current economic challenges. Despite these challenges DIMO has come forward with Mahindra Tractors to support the farmer community in land preparation as a social service. We believe that this initiative will be of an immense empowerment for the farmer community to face these economic challenges successfully."
Several other farming communities also expressed their sincere gratitude to DIMO and Mahindra Tractors for successfully completing the project and helping them, while overcoming many challenges and obstacles including the unfavourable weather during Maha season.
END
Image Caption:
DIMO together with Mahindra Tractors assists local farming community in land preparation
About DIMO
Diesel & Motor Engineering PLC (DIMO) is involved in a number of related fields and represents many prestigious principals – Mercedes-Benz, Siemens, Jeep, KSB, TATA Motors, MTU, Komatsu, Michelin, Zeiss, MRF, Bomag, Claas, TK Elevator, Mahindra Tractors and Stanley to name a few. From a company known for vehicles, DIMO today has diversified into many areas. Medical Engineering, Building Management Systems and Services, Power Generation and Distribution, Material Handling, Storage and Warehouse solutions, Power Tools, Agricultural Equipment, Total Lighting Solutions, Power systems and Generators, Refrigeration, Ship Repairing and Driver Training Courses are some of the areas into which DIMO has entered during the past few decades. DIMO has also diversified into fertilizer and agriculture input market. DIMO successfully entered into overseas markets in the Maldives and Myanmar, by expanding their Marine and General Engineering services through partnerships in the Maldives and their automobiles and automobile servicing segments into Myanmar. DIMO is currently working to consolidate on current overseas operations with new markets in East Africa.