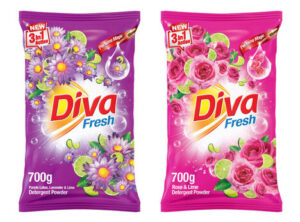 With the busy life patterns and changing consumer behaviors, a laundry detergent is a must-have in today's households, and it is often among the everyday grocery shopping list. Sri Lankans have the luxury of choosing from a wide range of laundry detergents at different price points. However, with the ongoing economic challenges, people are seeking affordable and good laundry products that work for them and keep the clothes clean.
Diva Fresh is a popular washing powder by people of all social segments and is available in a wide range of variants. Its 3-in-1 formula include Perfume Magic, which provides long-lasting fragrance, along with Fibre Clean Technology, and Optical Brighteners, which offer superior cleaning and brightness to clothes. Diva Fresh is available in multiple variants including Diva Fresh Rose, Purple Lotus & Lavender, Araliya, Jasmine and Sepalika. Diva Fresh washing powder is manufactured using the latest technology and adhering to the highest quality standards.
The recently launched 700g pack of Diva Fresh has become the most sought-after laundry product given its affordable price point when compared with 1kg pack size available in the market. Diva Fresh consumers are in full praise of the overall Diva Fresh range and specially of the 700g pack for being a highly affordable product that offers high level of cleaning. Diva introduced the 700g pack with the view of providing a highly value for money product at a time, the country has undergone severe economic challenges with more burden on people's lives.
Anushka Sabanayagam Category Manager, Hemas Manufacturing said, "Diva Fresh washing powder range has always been closer to the hearts of Sri Lankans. The brand has ensured to keep up with the changing consumer behaviors and consumer needs to introduce new variants and pack sizes. We have received good consumer feedback for launching the Diva Fresh 700g pack and it has revolutionized the laundry detergent space within a short time span. It is a timely move by the brand to introduce a pack at a highly affordable price. Diva Fresh range will continue to evolve and serve the laundry needs of Sri Lankans many more years to come."
When it comes to choosing a washing powder, three things that consumers look for are; whether the product removes dirt, gives brightness anda fresh fragrance to the clothes. Feedback from Diva Fresh consumers was that they are satisfied with the product's benefits in terms of what they expect from a washing powder. The fibre clean technology and optical brighteners infused in Diva Fresh promises maximum cleanliness and brightness for clothes. The soothing fragrances unique to each variant is yet another reason for Diva Fresh range to be rated highly among the consumers.
A brand with a rich history of providing superior laundry care solutions, Diva has always understood the pulse of consumers and continues to provide high quality value for money products and be an integral part in Sri Lankan households for laundry needs. The brand has been able to capture the hearts of Sri Lankans with innovative and timely laundry solutions offered by Diva Fresh range that continues to evolve with consumer needs.
About Hemas Consumer
Hemas Consumer Brands, the leading Sri Lankan manufacturer of Home and Personal Care products, has won consumer hearts over the years through strong purpose-led brands and progressive sustainability practices. Hemas Consumer Brands strive to bring healthful living and personal care solutions to life through its portfolio of world-class products. They have garnered acclaim for creating superior Market-leading and Award-winning products by uncovering local insights which are nourished by growth-inspired innovative teams. They touch the lives of the communities around the island by creating meaningful offerings, cultivating trusted partnerships, and championing a more environmentally friendly inclusive world.
ENDS