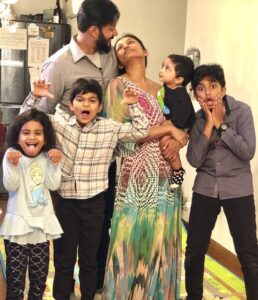 Sajeev Rajaputhra, President and Chief Executive Officer of the SAS3 Trading Company, was born in Sri Lanka and moved to Japan along with his parents and two younger sisters at the tender age of 7. He has been living in Japan for over 30 years and attended international schools to pursue his studies. Sajeev is a Japanese citizen and has acquired a Japanese passport which is exceedingly difficult to obtain and is considered the most powerful passport in the world.
An entrepreneur by profession, Sajeev currently owns a multitude of businesses that span across multiple countries. He is the Chairman of the Rajaputhra Group of Companies and his business empire is expanding rapidly with 11 companies under his leadership.
A man of many talents, Sajeev has also become popular as an actor and a director on both the big & small screens. He is best known for his roles in movies 'Father of Independence: Nidahase Piya DS' (2018), Bhavatharana (2015), and the teledrama 'Piyambana Munissam'. While passionate about singing and art, he has also studied the martial art of Kung Fu for over 10 years. He believes that learning is an exercise that one should never cease to practice as there is no limit to the knowledge one needs to acquire in order to succeed in this ever-changing world.
Given the lightning speed at which information and technology is advancing in the world, Sajeev strongly believes that one can either stay ahead of technology or have technology stay ahead of them. He also believes that the latter is a guarantee of failure in most aspects of modern life, especially in business.
Sajeev has lived in multiple countries including the USA, Japan, U.K, Singapore and Sri Lanka. He took the first step in his journey of entrepreneurship at a very young age and has had the opportunity to work with and learn from some of the most accomplished industry leaders around the world. His ability to blend his variety of passions in both his personal and professional life has brought about many special and unique opportunities and experiences throughout his life.
Sajeev's interest in vehicles began in his early childhood as he accompanied his father Mr. Kshasthriya Rajaputhra Weerasinghe to many vehicle auctions and inspections. At the young age of 12, Sajeev attended his first solo auction and purchased his very first vehicle and sold it thereafter. By the age of 16, he was well versed in the business, and started his own company while attending University. His company portrayed exceptional performance and upon his father's retirement, both companies were merged together under Sajeev's company, SAS3 Trading Company, which stands tall today as a global giant in automobile exports.
The mother company of Sajeev's business was founded in 1996, when Sajeev's father, Mr. Weerasinghe, saw the potential of the Japanese car export market. Since then, SAS3 has seen tremendous growth, both in terms of exports to a number of markets around the world and in terms of the relationships built with clients on a global scale. Today, the company has established offices in Japan, Sri Lanka, Pakistan, Kenya, U.K., Thailand, Australia, the USA, and many other countries, serving in over 30 markets world-wide.
Sajeev described his vision of a successful life as follows. "Family, Career, Service. If by the dusk of life, one has triumphed in each of these domains, I would include them in the universal book of success stories."
He is also a dedicated husband and is a father to 5 children. He is a family man who is passionate about creating meaningful relationships with his family and ardently raises his children to be kind, honest, humble, hard-working, and well-grounded. Just like his father, Sajeev also believes that it is important to groom the next generation for success with utmost discipline. He is often heard saying, that no matter what kind of success he has in the business world, his children will always be his greatest assets, and the best gift he can give to the world.
A strong believer in creating value and building relationships, Sajeev ensures that the central principals of his businesses add value to his consumers, employees, and his companies. At its core, Sajeev believes that building relationships with each and every client is the key to a successful business. By establishing trust, adding value, and maintaining quick and clear communication, SAS3 Trading Company has been able to build strong and lasting relationships with thousands of happy clients globally.
In the future, this keen businessman is looking at starting businesses that are specific to Sri Lanka, his motherland, and hopes to assist in the country's economy in terms of providing jobs and bringing in much needed foreign exchange.
An international personality, a Japanese citizen, a true Sri Lankan to the core; but most importantly, a great entrepreneur and a leader, whose journey has only just begun.
END