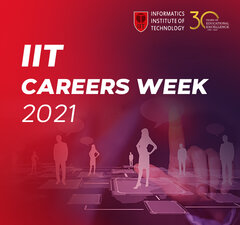 Informatics Institute of Technology (IIT), the pioneer in British higher education in Sri Lanka and the country's premier IT and Business campus, recently celebrated its 30-year journey of educational excellence and successfully conducted their first-ever IIT Careers Week 2021 on an online platform in keeping with the need to conform to the health and safety regulations issued by the Government to curb of the spread of the pandemic in the country. While this is the second consecutive year that IIT has conducted this event on a virtual platform, this year the campus went a step further by extending the event across several days thereby providing the large number of IIT undergraduates and participating companies more time to interact with each other.
IIT Careers Week, which took place from 31st May to 8th June, witnessed the enthusiastic participation of 500+ students seeking industrial placement in the 3rd year of their degree programme at IIT. IIT has incorporated this one-year mandatory industry placement as a part of its 4-year degree programme curriculum at it helps to facilitate the skills and knowledge necessary for workplace compatibility thereby helping students transition seamlessly to corporate work environment upon graduation. Over 80+ of Sri Lanka's leading companies conducted online interactive discussions during the 9 days with each session comprising 100 to 200 students. Some of the leading companies that took part included MAS Active, MAS Twinery , MAS Linea Aqua, MAS Attune, IFS, Virtusa, WSO2, Dialog Ideamart, CodeGen International, hSenid Business Solutions, hSenid Mobile Solutions, 99x Technology, Zone 24/7 Aesturnum and represented a host of domains including, Game Design, Web Development, Cyber Security and Artificial Intelligence.
As in previous years, IIT Careers Week was a platform for connecting IIT undergraduates with Sri Lanka's leading ICT and non-ICT organisations, including local blue-chip and multinational companies. While presenting these organisations with the opportunity to meet and convince IIT graduates as to why they should join their organisation, it also provides the hundreds of IIT undergraduates with the chance to interact with these top companies, present themselves for interviews and secure their one-year internship. With the wide array of participating companies, IIT students are able to select the companies of their preference to commence their careers while it allows the companies to interview some of the best ICT and business graduates in the country and employ the candidates ideally-suited for their various job requirements in today's fast-paced world.
Sharing her thoughts on IIT Careers Week, Naomi Krishnarajah – Dean of IIT stated, "The internship is an important feature for all undergraduate degree programmes at IIT. It provides real-life exposure to the world of work where students harness their classroom knowledge with practical application and skills developed in a professional setting. The internship has the added advantage of developing professional contacts in pursuing a career in the chosen field. Despite the pandemic lockdown, it was encouraging to witness over 80 companies participating in Careers Week and providing insights into internship opportunities and what it entails. In addition, the alumni of IIT working in these companies being present and sharing their experiences were valuable to the students. On the whole, it was a great success and I would like to take this opportunity to thank the companies, alumni, students, and the placement team at IIT for all the efforts rendered towards the success of this event."
Thilan Perera – Lead Consultant HR of Virtusa stated, "I think this is a great initiative as it's more convenient for students and relevant recruiters to connect with the students given the current pandemic situation. Also, it's great to see 100+ students participating in this event during Virtusa's presentation."
Sabry Ashraff – Assistant Manager – HR of Aeturnum commented, "It was a fantastic occasion to meet over 180 undergrads. We were able to interact and share what we could offer during the internship and how they can best use this one year tenure to learn and grow. It's been great working with IIT for over 12 years and looking forward to more of such events to further enhance our longstanding ties."
IIT was established in 1990 as the first private higher education institute that awards reputed British degrees in the field of ICT and Business. IIT is an award-winning campus offering internal postgraduate and undergraduate degrees from the University of Westminster, UK and the Robert Gordon University, UK. IIT has played a pivotal role in strengthening the IT and Business sectors in Sri Lanka over the years by producing world-class graduates. Since its inception in 1990, IIT has produced over 5,000 graduates who are now based in many countries around the globe. These graduates have gone on to become successful entrepreneurs and IT/Business professionals in both local and international corporate and government entities. They have played a pivotal role in empowering over 250 multinational and local blue-chip companies by holding key strategic positions while contributing immensely towards the growth of their respective organizations.