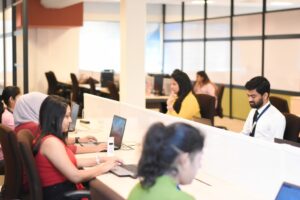 Orion City IT Park, a commercial and office infrastructure provider, recently welcomed the expansion of Infomate, a company of the John Keells Group with world-class facilities. The company's expansion is a testament to the unparalleled service provided by Orion City, which is dedicated to supporting the growth of companies such as Infomate.
Infomate officials said "We chose Orion City back in 2017, because it offered us many unique selling points such as plug and play workstation options, strong BCP measure, employee facilities and scalability, which made it an ideal locality in which to grow our business. This expansion is attributed to Orion City's hassle-free environment and uninterrupted power supply, which makes it easy for companies like us to thrive through extremely efficient daily operations."
In addition to its business-friendly environment, Orion City also provides a convenient location for employees to maintain a healthy work-life balance. With over 50 local and international companies currently operating in Orion City, employees have access to various amenities and services, including a 24×7 dedicated help desk, building management services, and security personnel.
Orion City also offers ample car parking, power backup, food and beverage outlets, fitness centre, and other conveniences such as a supermarket, bank outlets, and ATMs. During the past few months, Orion City has provided uninterrupted power to tenants by using energy-efficient power technologies and well-sourced fuel.
The company also provides daily garbage disposal, janitorial services, and pest control services to maintain cleanliness. Orion City is located within the main city limits and has easy access to the Colombo – Katunayake Airport expressway, leading train stations, and bus stops.
The success of Infomate and other companies based in Orion City is a testament to the excellent support and services provided by the Team at Orion City. The Management Team at Orion City is committed to providing the best services to its clients, ensuring that they can operate efficiently and grow their businesses. Orion City's state-of-the-art facilities and commitment to customer service have made it a leading destination for businesses looking to expand and grow.