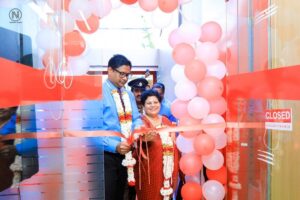 On a mission to continuously empower more Sri Lankans to achieve their financial goals
Singer Finance PLC, a subsidiary of Singer Sri Lanka and the Hayleys Group, is set to mark a significant milestone as it celebrates the opening of its 49th and 50th branches in Nelliady and Jaffna respectively on March 31, 2023.
Singer Finance PLC has been providing financial solutions to customers since its inception in 2004. The company has become the preferred finance partner for Sri Lankans, and seeks to empower more individuals and businesses to achieve their financial goals, by continuously expanding its network islandwide.
Mr. Aravinda Perera, Chairman of Singer Finance PLC commented on the historic opening: "The opening of our 50th branch is a truly meaningful milestone for our dedicated and passionate team. It is a clear indication of how far we have grown as a company, and how much trust customers have placed in us over the years. I would like to extend my gratitude to all involved in our expansion over the years."
Despite economic challenges and setbacks such as the COVID-19 pandemic, Singer Finance PLC has demonstrated resilience and managed to double its network from 25 branches in 2017 to 50 in 2023.
At the opening of its 50th branch, Mr. Thushan Amarasuriya, Chief Executive Officer and Executive Director, Singer Finance PLC, shared his thoughts: "It is indeed gratifying to be able to witness such an achievement for Singer Finance PLC, especially in light of the current economic predicament. We plan to continue with our expansion plans, so that even more Sri Lankans can access the innovative and customized financial products such as leasing, fixed deposits, savings accounts, gold loans and internet banking.
The company's continuous expansion is a testament to the company's commitment to its mission of providing ethical financial services that build lasting relationships with its customers.
END
Photo Caption
From Left to Right: Thushan Amarasuriya Director CEO Singer Finance PLC and Chandrika Alwis Consultant to Chairman on Gold Loans at the opening of the Nelliady Branch