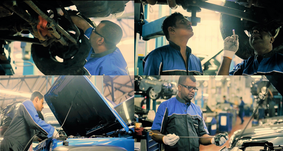 DIMO, a leading diversified conglomerate in Sri Lanka and the only Authorised General Distributor for Jeep in the country, recently opened the all-new Jeep Performance Centre. This state-of-the-art aftersales facility has been designed to offer Jeep owners comprehensive care and the launch event was attended by several Jeep owners. Located at the DIMO 800, Centre for Excellence in Colombo 14, the Jeep Performance Centre will provide a one-stop-shop for owners seeking the most reliable aftersales care.
Mr. Mahesh Karunaratne, Chief Operating Officer for Aftersales at DIMO commented, The Jeep Performance Centre is a new initiative aimed at revitalising our aftersales care services and taking our offerings to another level. As a company that is deeply committed to fuelling the dreams and aspirations of the communities we serve, it is also our aim to enhance customer convenience with this novel concept.
The Jeep Performance Centre offers a wide range of tailormade aftersales care solutions for Jeep owners including island wide 24-hour Roadside Assistance, Mopar-Trained Technical Experts who are fully equipped with the Mopar recommended Software, Systems, and Special Tools & Equipment to ensure any and all repairs and modifications are carried out with the utmost care and as per the Mopar Repair Guide. The Jeep Performance Centre also uses recommended Jeep parts, that work seamlessly with the Jeep vehicles.
In addition to these services, the Jeep Performance Centre also offers a wide range of Jeep accessories, which are specifically designed to enhance the vehicles performance and appearance. All accessories on offer are recommended by Mopar, which is the official aftersales provider for Jeep around the world.
The launch of the Jeep performance Centre marks an all-new milestone for DIMO's aftersales care. It also solidifies the company's commitment to providing world-renowned services and support to its customers through every step of their ownership journey. The Centre is poised to set an all-new standard in aftersales care in Sri Lanka's automotive industry. Jeep owners can now have complete peace of mind, knowing that their vehicles are being taken care of by DIMO's Mopar-Trained Technical Experts, who are deeply committed to providing aftersales service and support of the highest quality at DIMO, The HOME for Jeep.
END
Image Caption
State-of-the-art Jeep Performance Centre at DIMO 800
About DIMO
Diesel & Motor Engineering PLC (DIMO) is involved in a number of related fields and represents many prestigious principals – Mercedes-Benz, Siemens, Jeep, KSB, TATA Motors, MTU, Komatsu, Michelin, Zeiss, MRF, Bomag, Claas, TK Elevator, Mahindra Tractors and Stanley to name a few. From a company known for vehicles, DIMO today has diversified into many areas. Medical Engineering, Building Management Systems and Services, Power Generation and Distribution, Material Handling, Storage and Warehouse solutions, Power Tools, Agricultural Equipment, Total Lighting Solutions, Power systems and Generators, Refrigeration, Ship Repairing and Driver Training Courses are some of the areas into which DIMO has entered during the past few decades. DIMO has also diversified into fertilizer and agriculture input market. DIMO successfully entered into overseas markets in the Maldives and Myanmar, by expanding their Marine and General Engineering services through partnerships in the Maldives and their automobiles and automobile servicing segments into Myanmar. DIMO is currently working to consolidate on current overseas operations with new markets in East Africa.