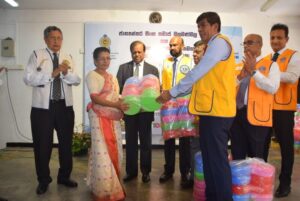 The Lions and Leos of Multiple District 306 Sri Lanka (MD 306), in collaboration with the Ministry of Education, are hosting the inauguration ceremony of the 'Protect Child Nutrition' project at the Holy Rosary School, in Colombo 02. The Chief Guest for the event is the Minister of Education, Hon. Dr. Susil Premajayantha, and the Guest of Honour is the Past International President of Lions International, Mahendra Amarasuriya.
The primary objective of the project is to alleviate the starvation of children in Sri Lanka during the current economic crisis that has left millions of Sri Lankans food insecure. The project aims to provide a daily meal to thousands of school children across the country for a duration of three years.
Lions MD 306 has partnered with the Lions Clubs International Foundation (LCIF) for this program, which is a designated grant project of the Foundation. The Lions of Sri Lanka aspire to raise US$ 400,000 annually to fund the project and offer a daily meal to children in schools around the island throughout the school year.
The ultimate aim of this project, which is sanctioned by the Ministry of Education, is to provide meals for 10,000 children over a 3-year period. The Lions of Sri Lanka will be overseeing the provision of meals to selected schools around the island. They will also supervise the preparation of the meals and ensure that they are of the highest quality and standard.
The Lions of Sri Lanka are calling upon the public to join hands and donate whatever they can to support this crucial and necessary cause, ensuring that the nation's children can successfully combat starvation and malnutrition, leading healthy and happy lives. Every donation, no matter how small, can make a significant difference in helping children in need. The people of our nation have repeatedly demonstrated the power of unity when it comes to supporting our own. All donations will be utilised only to provide meals to the children.
Lions have been serving the world for 105 years and for 65 years Lions of Sri Lanka have been at the forefront of community support initiatives, catering to the needs of the country. They have also been actively involved in donating and volunteering in all parts of the country.
The project has officially partnered with Sarva Colombo as the Official Creative Partner, Sarva Digital as the Official Digital Partner and PR Wire as the Official Public Relations Partner.
The organizing committee wishes to extend its profound gratitude to all donors and requests them to transfer their donations to the following account:
Account Name: Lions Clubs Int MD 306
Bank: Commercial Bank
Branch: Rajagiriya
Account Number: 1000574089
Further details could be got at https://protectchildnutrition.lionsmd306.org/ and by writing to [email protected]