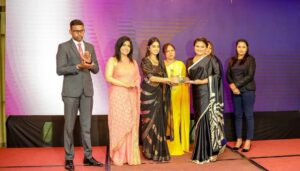 Heshani Kaumadi, the Founder and Chief Executive Officer of InTalent Asia, recently won the 'Self Reliance Award' at the Femina Awards Ceremony organized by the Saubhagya Foundation, held on the 8th of March 2023, coinciding with International Women's Day. The Femina Awards aimed to recognize, appreciate, and empower women who were exceptionally resourceful and determined in their respective fields and impactful in their communities.
Remarking on the award, Heshani, stated, "I am thrilled and honored to receive this award, and I am deeply grateful to the Saubhagya Foundation for the amazing work that they do. This award is a reminder of the power of entrepreneurship and the importance of creating more opportunities for women. I feel privileged to be in the position I am in, and I am ever committed to using my platform to empower and uplift talented women to achieve their full potential."
An outstanding HR professional with years of accrued experience, Heshani has exhibited remarkable entrepreneurial talents in her career. The prestigious award is a testament to this and her innate resourcefulness in achieving her goals. Utilizing her skills and expertise in Executive Search & HR Consulting, Heshani built InTalent Asia into one of the foremost HR solutions providers in the country.
Heshani's vision for InTalent Asia has extended the company's reach to over 20 countries, diversifying its clientele and pushing the boundaries of its expertise. Its prime objective is to help businesses achieve success by providing customized HR services and solutions, which is done by actively seeking out the best HR capability for each client rather than simply selecting candidates from a pre-existing database of CVs. InTalent Asia provides services encompassing every aspect of recruitment, ranging from individual to team management. The company is committed to quality and delivering results within a given time frame, making it the go-to partner for businesses across a broad range of sectors, including information technology, manufacturing, marketing, finance, and retail.
ENDS
Photo Caption- Heshani Kaumadi, the Founder and Chief Executive Officer of InTalent Asia, receiving the award