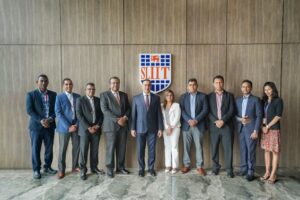 Becomes the first institution in Sri Lanka to introduce virtual learning labs for IT students to test practical experiments
The institution was also the first to deploy virtual interactive lecturing platform and conduct online assessments post Covid-19
Sri Lanka Institute of Information Technology (SLIIT), recently announced that they have strengthened their technological facilities and capabilities with the help of VMware Horizon to become the first institution in Sri Lanka to introduce virtual learning labs with the help of Virtual Desktop Infrastructure (VDI). SLIIT has been at the forefront in introducing immersive technology in academics to enhance learning experiences for students; they were the first to implement virtual interactive lecturing platform and conduct online assessments post Covid-19.
Implementing VMware Horizon has enabled SLIIT to introduce virtual learning labs to help IT students test practical experiments on virtual lab environment after developing them in the physical labs. SLIIT is one of the largest private education centers in Sri Lanka and is known as a leader in its efforts of applying technology to education, placing an emphasis on elevating hands-on and inclusive learning experience through tech innovation.
With the introduction of virtual labs, SLIIT is one step ahead in reaching their digital ambition of providing a more conducive and robust technology platform by simplifying their cloud management and reducing cost and maintenance while also delivering high capabilities of cloud performance. The new technological advancements have also helped SLIIT to facilitate growth by increasing computer labs inside the facility to 1500+ and creating a flexible and agile hybrid cloud-hosted platform.
"We understand the need for the education sector to advance in digitalization to stay competitive and relevant. With VMware we were able to implement virtual tools and platforms to provide a more comprehensive and enriching experience to the students as well as the teachers and the extended faculty. We are continually striving to ensure a seamless and flexible movement of our workloads across the network as well as achieve the agility and scalability that we need to keep up with the heavy use of cloud computing as we navigate through our digital transformation journey." said Chaminda Lewke Bandara, Director, IT, Sri Lanka Institute of Information Technology.
With the use of VMware Horizon, SLIIT has successfully established capabilities for hands-on and inclusive learning online with automated scheduling, streamlined digital lab and assessment experiences and deployed engaging hands-on learning labs across various IT domains such as programming, multimedia and cybersecurity to enable students to learn from anywhere remotely.
"SLIIT's efforts and forward-thinking initiatives in embracing immersive technology have been paving the way for the education sector in Sri Lanka to embrace innovation and transformation amidst many challenges. Through this partnership, VMware will be able to facilitate a dynamic and engaging learning experience to the students by empowering them to work efficiently, effectively and remotely with the help of virtual desktops." said Venkatesh Murali, General Manager and Country Leader, Nascent Markets and Vietnam.
About VMware
VMware is a leading provider of multi-cloud services for all apps, enabling digital innovation with enterprise control. As a trusted foundation to accelerate innovation, VMware software gives businesses the flexibility and choice they need to build the future. Headquartered in Palo Alto, California, VMware is committed to building a better future through the company's 2030 Agenda. For more information, please visit www.vmware.com/company .
VMware and Horizon are registered trademarks or trademarks of VMware, Inc. or its subsidiaries in the United States and other jurisdictions.
About SLIIT
The Sri Lanka Institute of Information Technology (SLIIT) was founded in 1999 and is a University Grants Commission (UGC) recognized Institute that stands today as a symbol of excellence in private tertiary education. Celebrating 23 years, SLIIT is a member of the Association of Commonwealth Universities (ACU) and the International Association of Universities (IAU) and is also the first Sri Lankan Institute to be accredited by the Institution of Engineering and Technology, UK.
SLIIT has officially placed in the Top 750 of the Asian higher education institutions in the QS Asia University rankings 2023 and is one of the few Sri Lankan universities included. The Institute produces highly employable graduates at all levels in IT and other industries and accommodate over 15,000+ students and 30,000+ alumni with a 96% employment rate.
ENDS
Image caption- 'The Team behind the initiative'