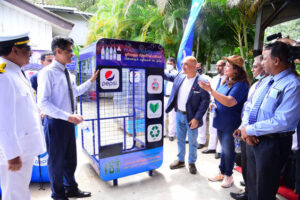 Varun Beverages Lanka Pvt Ltd. is a leading beverage manufacturer in Sri Lanka and an integral part of Varun Beverages Limited, which is the 2nd largest bottling company of PepsiCo in the world outside the United States, recently launched its voluntary EPR (Extended Producer Responsibility) program "Clean Green Sri Lanka". Under this program, PET Bottle Collection bins are being placed at railway stations in Sri Lanka to collect the used Plastic bottles. This project is in collaboration with the Department of Railways and the Railway Station Masters' Union. It is facilitated by Eko Plasco (Pvt) Ltd and the Negombo Recycling Club.
To kick-start this project, an event was held at the Fort Railway Station where 50 PET bottle Collection bins were given to every railway station from Maradana to Aluthgama. The event was attended by key officials from the railway department, Varun Beverages Lanka, Eko Plasco (Pvt) Ltd, Negambo Recycling Club MRF Site and racing champion Mr. Dilantha Malagamuwa.
Commenting on the 'Clean Green Sri Lanka' project Ms. Eresha Kumburulanda-Head of Legal Compliance & Sustainability of Varun Beverages Lanka Pvt Ltd said, "Through this initiative, the company wants to show their commitment towards clean and green Sri Lanka initiatives. The used plastic bottles will be collected through these bins at Railway stations and sent to Recycler, which would convert it into other useful plastic products post recycling. This initiative will not only help in cleanliness of Railway stations from litter of used plastic bottles but also help in saving environment through plastic pollution".
Mr. Gunasinghe, the General Manager of Sri Lanka Railways further commented saying, "We extend our gratitude to Varun Beverages Lanka for initiating this valuable project during this time period of which the railway department is going through a rough patch due to the economic crisis. And we also invite other organizations in the country to follow the path of Varun Beverages and undertake similar projects."
With the 'Clean Green Sri Lanka' EPR initiative Pepsi hopes to minimize environmental pollution by recycling used PET/plastic bottles, improve awareness among railway passengers regarding the correct disposal of used plastic bottles in allocated Plastic bottles collection bins.