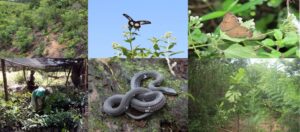 DIMO, a leading diversified conglomerate in Sri Lanka, recently completed its contribution to the collaborative 5-year forest reserve restoration project, 'LIFE', in Kanneliya. The restoration programme was conducted together with Biodiversity Sri Lanka (BSL) and several private sector companies along with the technical support of the International Union for Conservation of Nature (IUCN), and guidance from the Forest Department.
DIMO commenced its 'LIFE' journey in 2016, along with 15 private sector companies to restore a 12-hectare patch of degraded forest land in the Kanneliya Forest Reserve. After years of planning, implementation and monitoring, the site has shown remarkable progress where over 18,000 plants from 46 native species have been introduced throughout the reforestation period. The project also commenced a biodiversity credit accrual system for Sri Lanka with the objective of assigning a unit of value for enhanced biodiversity and ecosystem services.
The reforestation project has also seen remarkable development in terms of butterfly diversity. A recent biodiversity study recorded 22 species of butterfly at the restoration site, which is incredible as they are a great indicator of the progress of ecological restoration. Additionally, several new species of animals which were not initially recorded in the area, have also been observed on site as a result of several areas of the site reaching the second and third stages of regeneration which attracts a plethora of animal species. A massive total of 100 animal species have been recorded in the area so far.
The project is aligned with a number of goals in the United Nations Strategic Plan for Forests 2017 – 2030. Goal #1 includes the reversing of the loss of forest cover worldwide through sustainable forest management. The 'LIFE' project directly contributes to this target through the restoration of 12-hectares and promotes the sustainable management of one of the most highly diverse tropical wet evergreen forest ecosystems in Sri Lanka.
The 'LIFE' project also aligns with Goal #3 which includes significantly increasing the area of protected forests worldwide. The site in Kanneliya is already under long-term management plans of the Forest Department. Lastly, Goal #4 includes mobilizing new and additional financial resources from all sources for the implementation of the sustainable forest management and strengthening scientific and technical cooperation and partnerships. The project aligns with this goal as it is a collaboration between 15 private sector companies, and the total investment for the project was approximately USD 100,000 for a period of 5-years.
Mr. Gahanath Pandithage, Group Chief Executive Officer of DIMO, said, "I couldn't be prouder of our contribution to the project, as it aligns with our sustainability goal of 1:1 restoration which portrays our commitment to the restoration of forests and other degraded areas as compensation for the land utilised by the company. The project is also in line with Sustainable Development Goal #15, Life on Land, which highlights the importance of protecting, restoring and promoting sustainable use of terrestrial ecosystems. As a company operating with the purpose of fuelling dreams and aspirations of all our stakeholders, we are committed to assure the conservation of our natural environment, by becoming the perfect sustainability partner."
Overall, the project 'LIFE' was a resounding success. DIMO, despite having successfully completed its contribution to this project, will continue to support sustainability initiatives in the future as well, as they are an integral part of the company's commitment to being a responsible corporate citizen.
END
Image Caption
Project 'LIFE' enhanced the biodiversity of the area covering a large number of species
About DIMO
Diesel & Motor Engineering PLC (DIMO) is involved in a number of related fields and represents many prestigious principals – Mercedes-Benz, Siemens, Jeep, KSB, TATA Motors, MTU, Komatsu, Michelin, Zeiss, MRF, Bomag, Claas, TK Elevator, Mahindra Tractors and Stanley to name a few. From a company known for vehicles, DIMO today has diversified into many areas. Medical Engineering, Building Management Systems and Services, Power Generation and Distribution, Material Handling, Storage and Warehouse solutions, Power Tools, Agricultural Equipment, Total Lighting Solutions, Power systems and Generators, Refrigeration, Ship Repairing and Driver Training Courses are some of the areas into which DIMO has entered during the past few decades. DIMO has also diversified into fertilizer and agriculture input market. DIMO successfully entered into overseas markets in the Maldives and Myanmar, by expanding their Marine and General Engineering services through partnerships in the Maldives and their automobiles and automobile servicing segments into Myanmar. DIMO is currently working to consolidate on current overseas operations with new markets in East Africa.