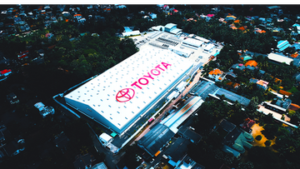 Toyota Lanka Private Limited, the national distributor of Toyota products commemorated the 70 years of Japan – Sri Lanka diplomatic relations by ceremoniously inaugurating the state of the art fulfillment facility in Mahara on 14th December, 2022. The Hon. President of Sri Lanka Ranil Wickremesinghe graced the occasion as the chief guest. The presence of the Japanese Ambassador to Sri Lanka His Excellency Mizukoshi Hideaki further made the event memorable. Senior representatives of Toyota Tsusho Corporation, the holding company of Toyota Lanka were also present at the event, headed by Mr.Takuro Akasaka, Chief Operating Officer of the Automotive Division. On behalf of Toyota Lanka, Mr.Sachio Yotsukura, Chairman and Mr.Manohara Atukorala, Managing Director/CEO were part of the opening ceremony.
Sachio Yotsukura, Chairman of Toyota Lanka (Private) Limited, shared his thoughts. "The automotive industry has entered an era of profound transformation along with the rapid global developments. In line with such developments, Toyota's new Global Vision has also enhanced to 'lead the future mobility society, enriching lives around the world, with the safest and most responsible ways of moving people'. Establishment of this Fulfillment Center reflects our strong commitment and a steppingstone towards materializing such mobility society. We have introduced Toyota's state-of-the-art logistics solutions here in Sri Lanka, which enable us to provide, quality-controlled products on a timely basis with accuracy and in the most efficient and cost-effective manner."
Sri Lanka's pre-eminent automobile provider and the exclusive distributor for Toyota vehicles, material handling equipment and Hino commercial vehicles have established its stronghold during the past 25 years. The company has an Island wide network of 18 facilities to support all requirements of its customers from vehicle servicing, to medium and heavy repairs.
Despite present challenges faced within the country's mobility sector, Toyota Lanka continues to invest in new infrastructure fulfilling the brands promise in creating happiness to its valued customers and all stakeholders. Toyota Lanka will continue to be a buoyant player in Sri Lanka's mobility transition.
The newly opened Toyota Lanka fulfillment center will be the foundation for the "new world" in mobility by facilitating all logistic requirements of Toyota Lanka and its customers. The new facility will support the operations of the island wide dealer network and dealer points for all its allied products. Furthermore, a significant cost saving is anticipated with the facility being in full operation whilst improving customer convenience through the improved supply chain.
Mr. Manohara Atukorala, Managing Director/ Chief Executive Officer of Toyota Lanka (Private) Limited, also commented. "This facility will be portrayed as South Asia's model fulfillment center supported with Toyota's hallmark processes such as Just in Time and seven step storage techniques. We can now share our best practices in developing skills of Toyota companies among our neighboring countries as well."
The fulfillment center located strategically at Mahara, Kadawatha with quick access to all parts of the country was built with an investment of US$ 15 million. The facility is built on a 30,000 sq.meter land extent with 12,000 sq.meters of storage facility for the company's genuine parts, lubricants and accessories along with an ability to store more than 300 vehicles at a given time.
The fulfillment center is equipped with multi-mode delivery systems and digitalized inventory management system.
Toyota Lanka was established in 1995, and is fully owned by Toyota Tsusho Corporation, a member of the Toyota Group companies. Toyota Lanka had set up Toyota Plaza as the first automotive company that has "3S" operation (Sales, Spares & Service) under one roof. Since then, Toyota Lanka has enhanced its footprints island wide to become an integral part in the country's mobility space. The company is also the only multinational automotive company to be represented by its manufacturer in Sri Lanka.
Toyota Lanka aims at aligning itself with the Toyota's overall mission of shifting from a car manufacturing company to a leading mobility solutions provider. The new opened fulfillment facility at Mahara will be the steppingstone in this direction.
We wish to be the mass producer of happiness and smiles.