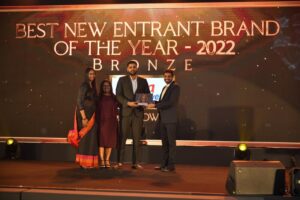 Diva Power from the leading household laundry brand Diva clinched Bronze award for the Best New Entrant Brand of the Year at the Slim Brand Excellence Awards 2022. Diva Power secured this award after beating strong competition from popular brands in Sri Lanka.
Launched in 2020, Diva Power was soon able to revolutionize the country's laundry space and win the hearts of Sri Lankans. Diva Power is renowned for offering protection and superior cleaning for clothes while being an affordable laundry product. Diva Power is available in two variants: Diva Power Germ Guard that offers 99.9% protection from germs and Diva Power Colour Guard which protects clothes by preventing colour fading.
Commenting on the award win, Mrs. Anushka Sabanayagam, Category Head Home Care of Hemas Consumer Brands said, "We are indeed proud of this recognition that speaks volumes of the progress of Diva Power in just two years of its launch. Being a young brand in the market, it is a big achievement to be able to compete and win at the highest level. This award further elevates Diva brand and its efforts to provide high quality laundry solutions to the loyal consumer base that has gathered around the brand."
Diva is a household brand loved by Sri Lankans of all social strata and the loyal consumer base gathered around the brand is a true testament to the brand's focus on offering superior laundry products. Over the years, Diva has propelled to become a key player in the laundry space and is competing with industry giants. Diva is strengthened by a product range that consists of Diva Power Powder & Liquid, Diva soap, Diva Fresh washing powder, which are available in different variants and pack sizes.
Being a highly consumer centric brand, Diva expresses its gratitude and is thankful for the loyal consumer base for being a part of Diva's journey and for the immense trust placed towards the brand.
About Hemas Consumer
Hemas Consumer, a leading manufacturer in Sri Lanka's Home and Personal Care sector is a subsidiary of Hemas Holdings PLC. Established in 1948, Hemas started with a simple intent to help families live healthfully. Today, as a leading public-quoted company with over 4,500 employees, Hemas brings healthful living to life through a portfolio of world-class products and services in the Consumer, Healthcare, and Mobility sectors. Hemas continues to invest in diverse and passionate teams, create meaningful offerings, cultivate trusted partnerships, and champion a more inclusive world.
Photo Caption
The Diva Power Team accepting the "Best New Entrant Brand of the Year" Award