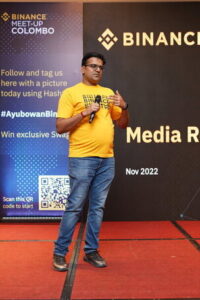 Binance kicked off the first meetup in Sri Lanka, generating an opportunity to empower blockchain and Web3 enthusiasts in the nation with the right knowledge about blockchain technology and shared insight on the potential of integrating such technologies in varied industries in the local context.
The Binance Colombo meetup was an offline educational event introducing people to the crypto and blockchain ecosystem. There were about 200+ attendees sharing keen interest in blockchain technology.
The event also included an experience sharing session by the local Binance Angels as well as an outlook on Binance's education efforts in the South Asian region.
Highlighting the local context on the blockchain industry and its potential positive integrations in Sri Lanka, Raj Karan, Regional Strategy & Operations Director for Asia & Eastern Europe at Binance[1] , stated "our mission in Sri Lanka is focused on dispelling myths on crypto industry as well as bridging the knowledge gap on the lack of awareness on Binance as a ECOSYSTEM PROVIDER for Blockchain and Web3 technology amongst the community in Sri Lanka. While crypto is an integral component of our service, it is one among several other technological innovations we are focusing on, we have expanded our narrative to NFT and we are continuing our innovation on avenues to expand in the industry vertical."
Binance's education initiatives in the South Asian region has already helped over 300 units to ideate and present solutions to issues that can be solved through Blockchain technology across over 50 universities and colleges in the region and the organization is looking forward to joining hands with local state and private sector universities and colleges in empowering and educating the local student bodies on heightened knowledge on the blockchain technology and web3 transformation.
Learn more on Blockchain and Cryptocurrency through Binance Academy: https://academy.binance.com/en
---