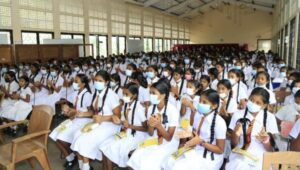 A healthy breakfast is thought to be the most vital meal of the day. Based on a study titled 'Breakfast habits, nutritional status, body weight, and academic performance in children and adolescents', a healthy breakfast is connected to greater consumption of nutrients during the day and a better standard of the entire diet.
Astra is committed to instilling the habit of breakfast amongst growing kids, as it is the most vital meal of the day, particularly during a child's impressionable years. In keeping with its heritage and assistance to the community during tough times, Astra continues to partner with mums in making a nutritious breakfast at home obtainable, cost-effective and preferred with the Astra Breakfast Mission.
With the creation of the Breakfast fund, Astra contributed Rs. 5 from every Astra 250g tub to offer dry rations needed for a month for breakfast in schools with kids from low-income families. (1000 packs were given with Rs. 2.5 Mn worth of funds). The Astra Breakfast Mission implemented another campaign generated to educate parents and kids on the necessity for a nutritious breakfast, in partnership with a resource panel including a nutritionist and a child psychiatric expert. Astra visited 20 schools and shared knowledge of the significance of breakfast and nutrition for kids' growth and development among school kids, teachers, and parents.
To instill the breakfast habit, Astra has also started a 21-day breakfast challenge where parents are expected to send in information about what they gave their kids for breakfast for 21 days. By doing this constantly for 21 days, Astra hopes to help parents to implement it as a habit in their kid's life.
Children require the correct nutrition at the right age for their growth and development, so parents have to be extremely vigilant in feeding them the correct nutrients in an inexpensive manner. By executing the Breakfast Fund, Astra hopes to help parents emotionally by educating them and offering them the confidence of knowing that they are making the correct decision for their kids.
Breakfast is a meal that can help children supply the energy to learn and play in school. Eating well starts with breakfast, which perhaps is the most vital meal of the day. Based on 'The effects of breakfast on behaviour and academic performance in children and adolescents', a study executed in 2013, a tasty and nutritious breakfast offers us with energy, vitamins, and minerals and is a brilliant way to begin the day. Therefore, by considering the economic hardships being faced by families in the present times, Astra created these campaigns to give back to society by partnering mums to ensure health and nutrition for kids at breakfast while driving home the importance of a nutritious breakfast.
As a brand with a history of 60 years in Sri Lanka, Astra continues to stand by families who require help with their child's nutrition.