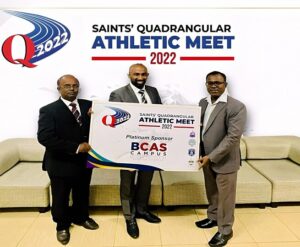 Four of the best Athletics schools in Sri Lanka, St. Anthony's College Kandy, St. Benedict's College, St. Joseph's College and St. Peter's College are meeting again at the Annual Saints' Quadrangular Athletic championship on 15th and 16th October 2022 at St. Peter's College grounds, Bambalapitiya.
This annual competition is eagerly looked forward to by the present and past athletes of the four schools, as it is not just a sporting event but also an occasion for the four leading Catholic Schools in Sri Lanka to come together in a spirit of healthy rivalry and camaraderie. This event was inaugurated in 1985 as a part of the quadrangularconcept existing since 1963, at the initiative of past athletes of St. Peter's College headed by former Sri Lanka Throwing Champion Ranjit Weerasena with the support of the old boys of other three schools. As expected, the Peterites emerged champions in the first meet. However, after 1991 there were no meets, then the Athletics Quadrangular was revived in 2015 again as an initiative of the Athletics Foundation of St. Peters College and gained momentum year after year with both the present and past athletes of the four schools keenly battling it out for supremacy.
This year at the highly competitive Colombo Zonal Athletic Championship held in August, Benedictines emerged victorious with Peterites in second and the Josephians in the fourth place. At the Kandy Zonal Athletic Championship, the Antonians were placed third. Therefore all four schools are having formidable outfits and a keen contest is expected over the two days of competition at Bambalapitiya. Overall, the Peterites have won the Championship 5 times, the Benedictines twice, Antonians once the Joes are yet to win the prestigious championship. In the Old Boys events, the Peterites have dominated throughout followed by the Benedictines. All four schools have produced outstanding athletes who have represented Sri Lanka with distinction at International Championships including the Olympics. This year is of special significance as three athletes from Quadrangular schools, Hirusha Hashen (St. Peters – Long Jump), Pasindu Malshan (St. Joseph's – Triple Jump) and Rumesh Tharanga (St. Peters – Javelin Throw) represented Sri Lanka at the 2022 World Junior Athletic Championship in Colombia.
The Opening Ceremony with the hoisting of the National Flag, the Papal Flag and the Flags of the four schools together with the singing of the National Anthem and School Anthems will begin at 9 a.m. The Closing Ceremony and the presentation of Awards by the Chief Guest Sriyan De Silva Wijeyeratne will be at 4.30p.m. on16th October 2022.
ENDS
Photo Caption
Dr. Susil Kumara Silva Executive Director of BCAS Campus handing over the sponsorship to Dr. Angelo Karunarthne Chairman of the organizing committee and Ladislaus Gnanapragasam Committee member