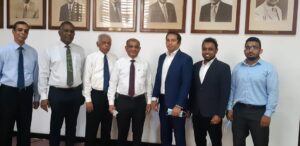 Tea Producers Can Access Real-Time Data, Value & Grade Teas and View Business Intelligence Reports
Colombo, SRI LANKA – OKLO Private Limited, a leading Sri Lankan solutions provider for the Ceylon Tea e-Auction platform, recently added an all-new segment for factories in its SmartAuction platform. This new feature provides over 650 factories with the chance to value and grade teas within the system, printing final catalogues, real-time and post-sales reports, and viewing their tea variants being auctioned live. For the first time, a live auction participation option has been instigated for all stakeholders and factories in the country's 150 years of auctioning history. The availability of this platform would now allow the tea-producing community to benefit from newly added or enhanced functionalities similar to other stakeholders.
With tea being the most significant commodity to be auctioned in Sri Lanka, it is also one of the most significant contributors to the local economy. As Ceylon Tea has already garnered a worldwide name, the branding has enabled Sri Lanka to be placed on the map as an influential tea-producing entity. At the same time, this functionality can also be utilised by other organisations that market commodities such as rubber, spices and coconut. Being present via an e-Auction paves the way for more competition among buyers and sellers.
Regarding the inclusion of their new feature, OKLO Private Limited, Managing Director – Thilanka Withanage stated, "Since the Colombo Tea e-Auction went live on the OKLO SmartAuction platform, the team has been releasing advanced features and functionalities to all stakeholders. With the release of the latest version, all Sri Lankan tea factories can now have complete access to the platform, similar to all other stakeholders. Our objective is to maintain consistency in the face of tech innovation and uplift our nation's ascent in the digital realm. We will continue utilising our nation's talents and build cutting-edge, practical, impactful products that will set innovative strides."
Sri Lanka Tea Factory Owners Association, Vice Chairman – Pasindu Pieris shared his views on the newly enhanced platform. He said, "This state-of-the-art solution from OKLO provided to the tea sector amalgamates all aspects related to dispatching tea from the factory to the point where it is sold at the auction through competitive bidding. Now, we can see our tea variants being sold at the auction right from our factory premises. The platform offers transparency and traceability while improving efficiency throughout the supply chain."
OKLO is a Sri Lankan Technology Solutions Provider with current solution offerings in the Travel and Trading sectors. It was founded in 2011 and has been expanded to become one of the key players in the Travel IT sector, catering to some of the largest blue-chip companies such as Walkers Tours, Cinnamon Hotels, Jetwing Travels etc.
For more information, email [email protected], call +94777320383, or visit www.okloworld.com.