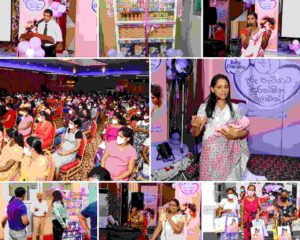 In celebration of its 60th Anniversary, Baby Cheramy, the leading and most loved baby care brand in Sri Lanka has launched the 'Safer world for our babies' educational and parental clinic programme with the aim of protecting and creating a safer world filled with love and care for babies, by sharing valuable knowledge on proper nutrition, Early Childhood Development, and inclusive parenting. Aligning its actions with its brand values, Baby Cheramy continuously contributes to the welfare of our society while providing the best care for babies.
The first in a series of programmes commenced in Dankotuwa on the 9th of August 2022. The programme advocated the importance of nutrition and inclusive parenting for both parents. At the end of each clinic, mothers and mothers-to-be were presented with a Baby Cheramy gift packs and a nutrition pack which included fresh milk and healthy breakfast cereal packs which help them to stay healthy and fit during their pregnancy period. This initiative will take place alongside other programmes conducted around the island.
Additionally, Baby Cheramy also donated a product cabinet to the Children's Ward of the Dankotuwa Hospital. The cabinet will be refilled, allowing mothers and mothers-to-be to use or take-home Baby Cheramy products at their convenience.
Going forward, these programmes will be conducted across the island in Western (Kalutara, Gampaha), Southern (Galle, Matara), and Eastern (Ampara) provinces. In addition to the programme, a pregnancy and parent-guide booklet on early childhood development, developed with the approval of the Ministry of Women and Child Affairs', will also be presented to the mothers.
Azmara Mannan, Marketing Manager – Baby Cheramy stated, "In its journey of 60 years, Baby Cheramy has served thousands of Sri Lankan parents by providing the best and safest care for their babies. The brand is eagerly looking forward to contributing to the welfare of the society and the concept of parental clinics is a fine example of how we can give back to the society by sharing valuable knowledge with parents and showering them with love and warmth of a heritage brand."
The brand has gone a step further by having an expert resource panel with experienced professionals in Maternal and Baby Care, Shyamalee Pathirage – Maternal, and Child Healthcare Consultant will address the audience on the importance of nutrition, Baby Care, Early Childhood Development, while Jagath Watawala, former Music Director at Sri Lanka Broadcasting Corporation, and Swarna Watawala the Aesthetics Teaching Instructor at Elpitiya Zonal Education Office will conduct a musical therapy session.
The first programme held at Dankotuwa was addressed by MOH Doctor Dankotuwa – Dr. W.K. Yapa and ECCD Officer of Divisional Secretariat, Dankotuwa – Ms. A.N. Sandamali Perera. These programmes are conducted in association with the Ministry of Women and Child Affairs, and the Ministry of Health and Early Child Care Development Authority.
The Parental Clinics will also help educate parents on the importance of baby care, Early Childcare Development, and Inclusive Parenting, which is crucial for effective physical, mental, and behavioural development in the child. The brand will continuously work with government and regulatory authorities to uplift and improve the education of expecting parents regarding baby care and early childcare.
Baby Cheramy takes its commitment to driving inclusive parenting, right to the ground level by ensuring that both mothers & fathers are educated through these parental clinics and knowledge-sharing sessions. The clinic programmes assist in fostering early childhood development for the country's younger generation who are the future of tomorrow.
For more details on Baby Cheramy's products and inclusive parenting, you can visit their website at www.babycheramy.lk or visit their Facebook page at https://www.facebook.com/BabyCheramy/.
END
Photo caption
Baby Cheramy 'Safer world for our babies' educational and parental clinic programmes launches in Dankotuwa.