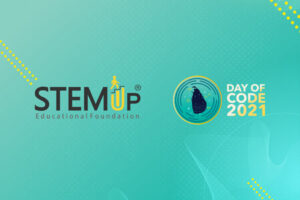 STEMUP Educational Foundation organised the Day of Code 2021 in partnership with the Information and Communication Technology Agency of Sri Lanka (ICTA) and Commercial Bank of Ceylon PLC. The event was held during Computer Science Education week which was from the 6th of December 2021 to the 12th of December 2021.
Computer Science Education week is celebrated every year to mark the birthday of Admiral 'Amazing' Grace Murray Hopper, a pioneer in computer programming whose contributions led to the development of COBOL which is one of the first modern computer languages that existed.
Prabhath Mannapperuma, Director of STEMUP Educational Foundation commented on the event "We believe that Sri Lanka is a country of vast potential and is full of people with the skill and capability to reach beyond the bounds of creativity and be recognised the world over. Therefore, we chose to host Day of Code 2021 and we couldn't be happier with the turnout."
The aim of Day of Code 2021 was to inspire Sri Lankan youth to enter the Computer Science field and take an interest in computer programming. The event was open to people of all ages, with an interest of in the computer science or computer programming fields. Participants took part in computer science education workshops in multiple languagesand received hands-on experience on renowned platforms to help start their journey into the field and to help them get an idea of the endless opportunities that are available.
Hasrath Munasinghe,Group Chief Marketing Officer of Commercial Bank also commented on the event "We are proud to be able to partner with STEMUP in bringing Day of Code 2021 to life in Sri Lanka. We believe that educating and honing the skills of our youth is of paramount importance. This is especially true in the information technology sector as it is the backbone of the future of the nation."
Participants were also able to listen to experts in the STEM and computer science fields from around the world in several panel discussions that took place during the event. Topics of discussion were around the importance of computer science education for Students and how Teachers and Parents can support Students on the same.
Overall, the event was a resounding success with a great number of participants. Events such as Day of Code 2021, will continue to inspire the youth of Sri Lanka and help them unlock the true potential of generations to come as well.